Bana Kawar: "The Future of Enablement Is Full of Endless Possibilities"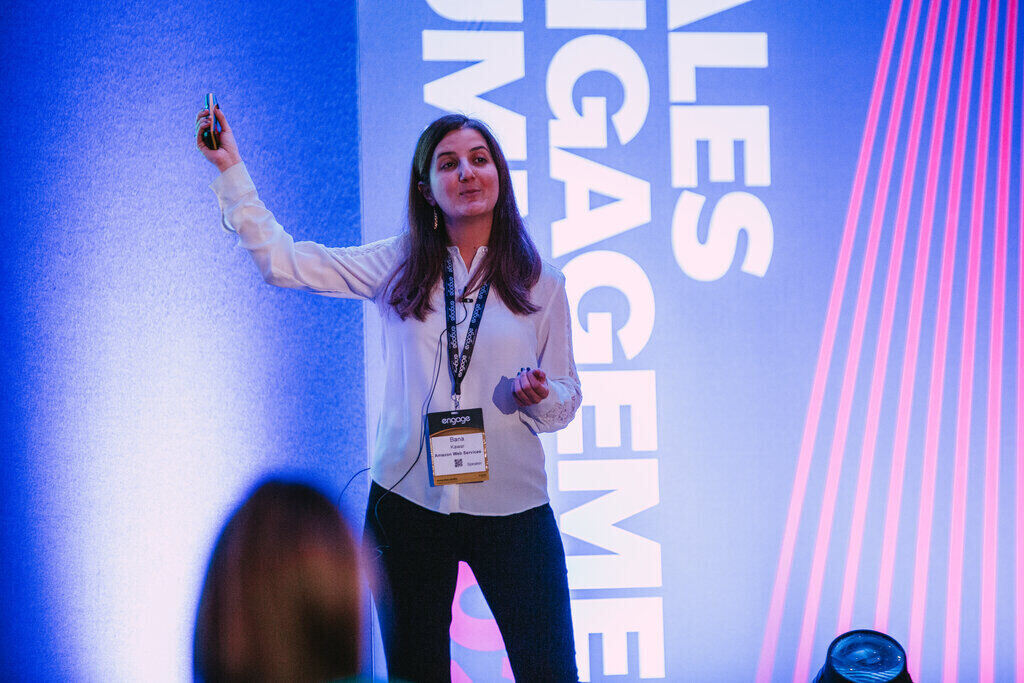 Bana Kawar is the UK Senior Sales Enablement Program Lead at Amazon Web Services. Having shared a case study at our 2022 Sales Engagement Summit, Bana has now delved deeper into the topics she discussed at the event. More specifically, she addressed the importance of enablement and how it can help your organisation grow in an interview with EBM's Editor. In addition to this, she revealed the projects she is currently working on and what she predicts for the future of the industry.
PLEASE INTRODUCE YOURSELF AND YOUR ROLE.
Hi there, my name is Bana Kawar, a bookworm, tech-nerd and avid learner. Otherwise, I lead the Enablement strategy and Go-To-Market programs for UK Public Sector at Amazon Web Services (AWS). My journey began with a passion for turning my interests into a fulfilling career, leading to explore various fields including Marketing, Business Analytics, and Finance. Eventually, I found my vocation in the Enablement and Tech industry, where I have spent over 7 years empowering others on their growth journey while doing what I love.
Apart from my day job, I career consult at Involve and The Prince's Trust foundations to help the young leaders of tomorrow achieve their goals. My passion for diversity and inclusivity has led me to co-found the Inclusion, Diversity, and Equity chapter at AWS EMEA, reaching over 1400 ambassadors today, all working together to empower every individual to believe in their voice.
AS THE SENIOR SALES ENABLEMENT LEAD AT AWS, HOW DO YOU THINK ENABLEMENT CAN HELP A BUSINESS GROW?
I believe Enablement can act as an organisation's accelerator and here's how:
Firstly, Enablement helps attract and retain top talent, enabling businesses to build a strong talent pipeline and promote a culture of continuous learning and improvement. This not only helps businesses innovate and deliver for their end customers but also moves them from a know-it-all to a learn-it-all organisation.
Secondly, Enablement empowers businesses to reduce time to market, enabling them to become more agile and responsive to customer needs. This can drive growth and competitive advantage in the long run.
Lastly, Enablement helps businesses do more with less long-term by building processes and mechanisms focused on customer-centric experiences that matter. The ramped-up agile mental models for their account teams help businesses make high-velocity decisions that ultimately make them more resilient.
In summary, Enablement done right has a positive correlation with managing and retaining talent, adapting to changing conditions, and accelerating Go-To-Market strategies. It's time to make Enablement a core function of your organisation.
HOW DO YOU PROVE THE IMPACT OF ENABLEMENT?
As a believer in the power of Enablement, I think that building impactful programs requires both inward and outward perspectives from Enablement leaders and builders. To measure the success of Enablement initiatives, close collaboration between Enablement, Revenue Ops, Account teams, and Leadership is essential.
Here are some ways to measure the impact of enablement:
Firstly, data-driven analysis provides insights into the impact of enablement on key organisation outcomes such as revenue growth, customer satisfaction, employee engagement, and confidence. This type of analysis helps justify the investment in Enablement and identifies trends and patterns over time. Pre and post assessments can be conducted over a period of time to track progress.
Secondly, performance input and output metrics can be measured over time to articulate the impact of enablement programs. Working with one variable at a time helps measure the ROI of enablement. Input metrics include opportunity and account data, hygiene, pipeline health (refill ratio), while output metrics include win rates and quota attainment. This can be simplified using the 3 tiers: Activity, Indicators, and Results over different lengths of time.
Lastly, feedback from stakeholders such as sales reps, managers, and customers provide valuable insights into the effectiveness of enablement programs and their impact on business outcomes. This feedback can be used to refine and improve enablement programs over time.
ARE THERE ANY PROJECTS THAT YOU'RE CURRENTLY WORKING ON THAT YOU'RE EXCITED ABOUT?
Yes, as an inclusion, diversity, and equity (IDE) advocate, my focus is to help embed these values into the Enablement organisation's programs and communications across Public Sector. But it's not just a project with a set endpoint – it's an ongoing action, which is why I call it IDEA, with the "A" standing for "action."
To achieve this, I first recognise and address any potential biases in the content produced. This involves educating myself about different cultures, identities, and experiences to help reduce my own bias and increase my understanding of diverse perspectives. I suggest taking the Harvard Project Implicit Test as a starting point.
Next, I recommend seeking out diverse speakers when building, reviewing, and refining programs. This means looking for representation from various backgrounds, levels of seniority, roles, and perspectives, and creating opportunities for underrepresented groups in the process.
Thirdly, building to acknowledge the various learning styles and audience groups e.g., neurodivergents truly matters. I recommend using concise language and avoiding technical jargon, providing visual aids and structure throughout, avoiding flashy colours or other sensory stimuli that may be overwhelming.
Finally, open communication is key to ensuring that all perspectives are heard and considered. To achieve this, I recommend creating an advisory board that meets regularly to review and revise programs, ensuring inclusive language and equal representation are embedded throughout, and making adjustments where needed.
By focusing on these four pillars of IDEA, we can truly embed inclusion, diversity, and equity into the Enablement organisation and create more inclusive and equitable programs for all.
LOOKING TO THE FUTURE, WHAT WOULD YOU SAY ARE THE KEY TRENDS SHAPING THE INDUSTRY?
The enablement industry is being shaped by several trends, including personalised self-paced learning, credit-based enablement, and Artificial Intelligence joining your Enablement org.
Personalised self-paced learning: In an age where there is an increasing need for lifelong learning and continuous upskilling, personalized learning solutions that cater to individual needs and preferences are gaining popularity by role/persona, industry and learning platform/format.
Credit-based enablement: assigning credits to training programs and enabling learners to choose what topics and when to accompany them across the buying journey is key. These credits are then accumulated by learners, indicating their level of expertise or readiness to take on new roles or customer missions.
Artificial Intelligence embedded in learning: AI is not only providing personalised learning experiences, but it can also be used for skills gap analysis, recommending Enablement programs, and providing real-time feedback and coaching to learners. AI-powered chatbots, virtual assistants and simulated learnings continue to be used to provide on-demand support to learners.
Other trends continue to play their part in the Enablement world with microlearning, virtual/hybrid training models and gamification to name a few. The future of enablement is full of endless possibilities, and as leaders and professionals in this field, we must stay abreast of these trends to remain customer obsessed and help our learners grow on their journey.