Engage B2B Awards: The 2022 winners and their sales success stories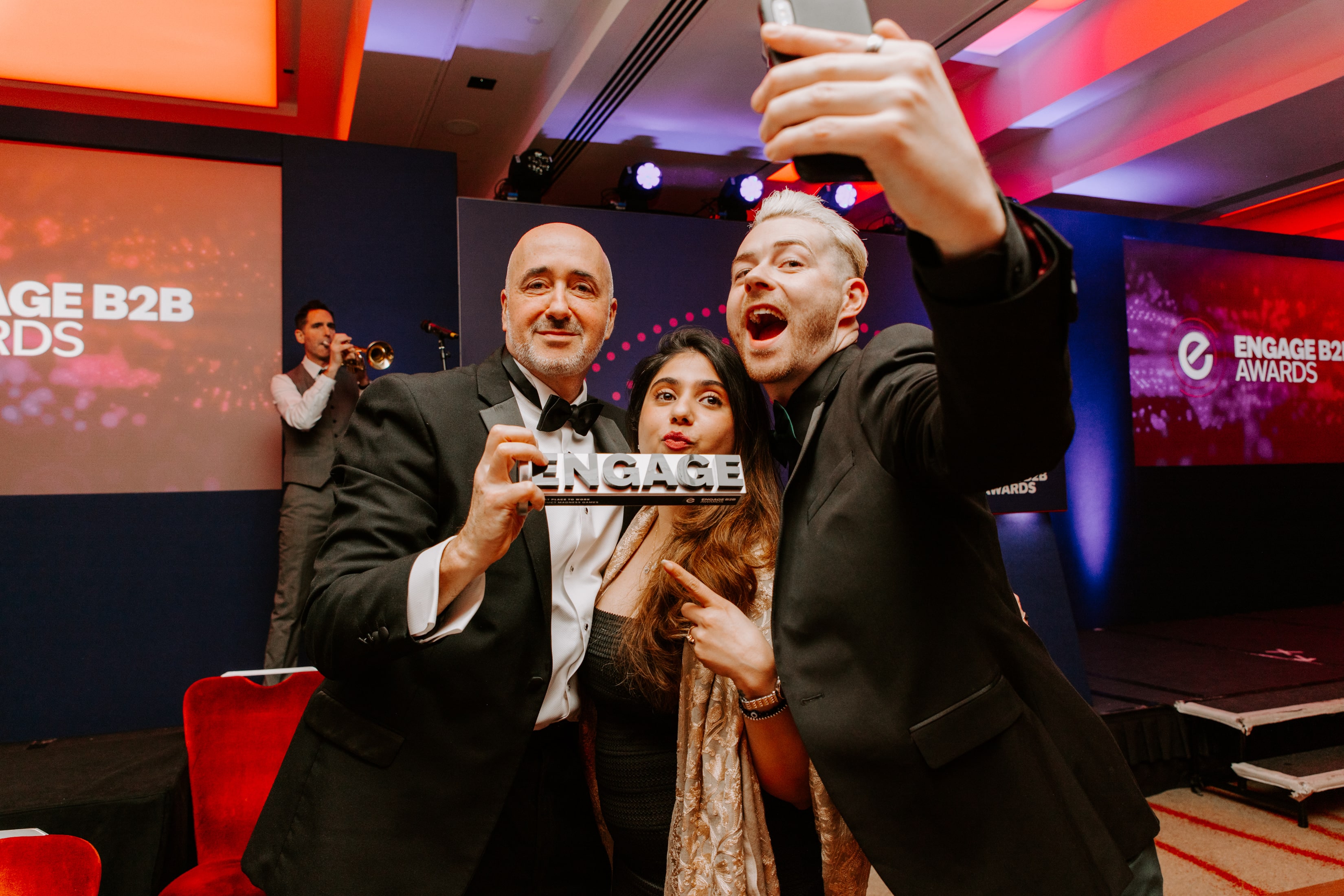 The first edition of the Engage B2B Awards took place on December 8th at the Victoria Park Plaza in London. The glamorous ceremony was held in the evening after our Sales and Marketing Engagement Summits. As such, the Awards celebrated the efforts and achievements of companies in these two fields.
The 2022 ceremony attracted over 200 guests, who came together to celebrate the award winners and finalists. Before the awards were presented, guests had the chance to enjoy a three-course meal and an entertaining performance by the comedian Dom Joly.
After this, the moment everyone had been waiting for finally arrived, as the voice-over artist Roger Tilling announced the winners of the 11 awards categories. Of these 11, 5 celebrated achievements in sales engagement, while the rest focused on MarTech. (Read more about the MarTech winners here.)
WHO ARE THE AWARD WINNERS, AND WHAT ARE THEIR SUCCESS STORIES?
1. Best Use of Onboarding and Training: Durhamlane
The revenue acceleration specialists durhamlane received an award for improving onboarding and training at their company. Believing that their people are their 'software', durhamlane created a People Onboarding department to enhance the quality of new staff and the staff retention rate.
In addition to forming this team, the company also invested in Allego: a sales coaching platform which enables the creation of training scenarios and a library of best practices for new hires to study.
Going further, durhamlane developed a People Onboarding programme which features a quality assurance process. Thanks to this, the company's clients can see how new hires are coached and share their expertise.
2. Best Use of Voice of The Customer: Tata Communications
The telecommunications company, Tata Communications, was presented with an award in this category for developing a robust Voice of the Customer (VoC) framework. Under this framework, the company uses numerous surveys to collect feedback, after which it analyses it across different segments and industry verticals. Following this, it receives insights on actions to take to improve each of the segments.
Breaking down its strategy, Tata Communications revealed that the foundation of its VoC framework lies in its 'Listen, Identify, and Measure' process. Put differently, the company listens to its customers, identifies their priorities to improve its services, and then measures customer satisfaction.
3. Great Place to Work: Product Madness
The mobile game studio Product Madness won the Great Place to Work award for its People and Culture department and unique office space. The People and Culture department comprises three teams: Studio Experience, People and Culture, and Talent Acquisition. Each of the three teams focuses on a specific employee experience and engagement area to make the company a great place to work.
The second reason why Product Madness received this award is its workspace. Located in London, the office was created with employee wellbeing in mind. Therefore, it features a massage room, sleep pods, a barista café, a games room, a yoga space, and an auditorium.
4. Best Integration of Sales Technology: Concentrix & GRYPP
Concentrix, one of the world's largest outsource contact centres, partnered with the new tech platform GRYPP to enhance its performance. It is this partnership that earned the two corporations their award for the Best Integration of Sales Technology.
As part of their collaboration, GRYPP provided Concentrix' contact agents with a cloud platform that helps them visualise products to customers in real-time while they speak on the phone. In other words, it allows customers to receive information not only by voice but also visually. In this way, the company increases customer comprehension, improves customer engagement, and reduces order returns.
5. Best Example of Sales Enablement: Compass Group UK&I
The food service company Compass Group won the Best Example of Sales Enablement award for developing NextGen, a 1-year accelerated learning programme for sales professionals. With this programme, Compass Group sought to tackle the challenge of developing and retaining first-class sales professionals in a highly competitive sector.
Having a rigorous selection process, NextGen offers training by world-class mentors. Besides teaching the necessary technical skills, the programme also provides delegates with training for mental resilience. What makes NextGen stand out even further is the Institute of Sales Professionals accreditation that its graduates receive upon completing their training.
Considering that the Engage B2B Awards received over 150 entries, we at Engage Business Media would like to extend our congratulations to the award winners once more!
Those interested in entering the 2023 awards can do so from January 23rd until July 17th.