Dr. Grant Van Ulbrich: "We're No Longer in the 1980S, With Tips and Tricks to Close a Sale"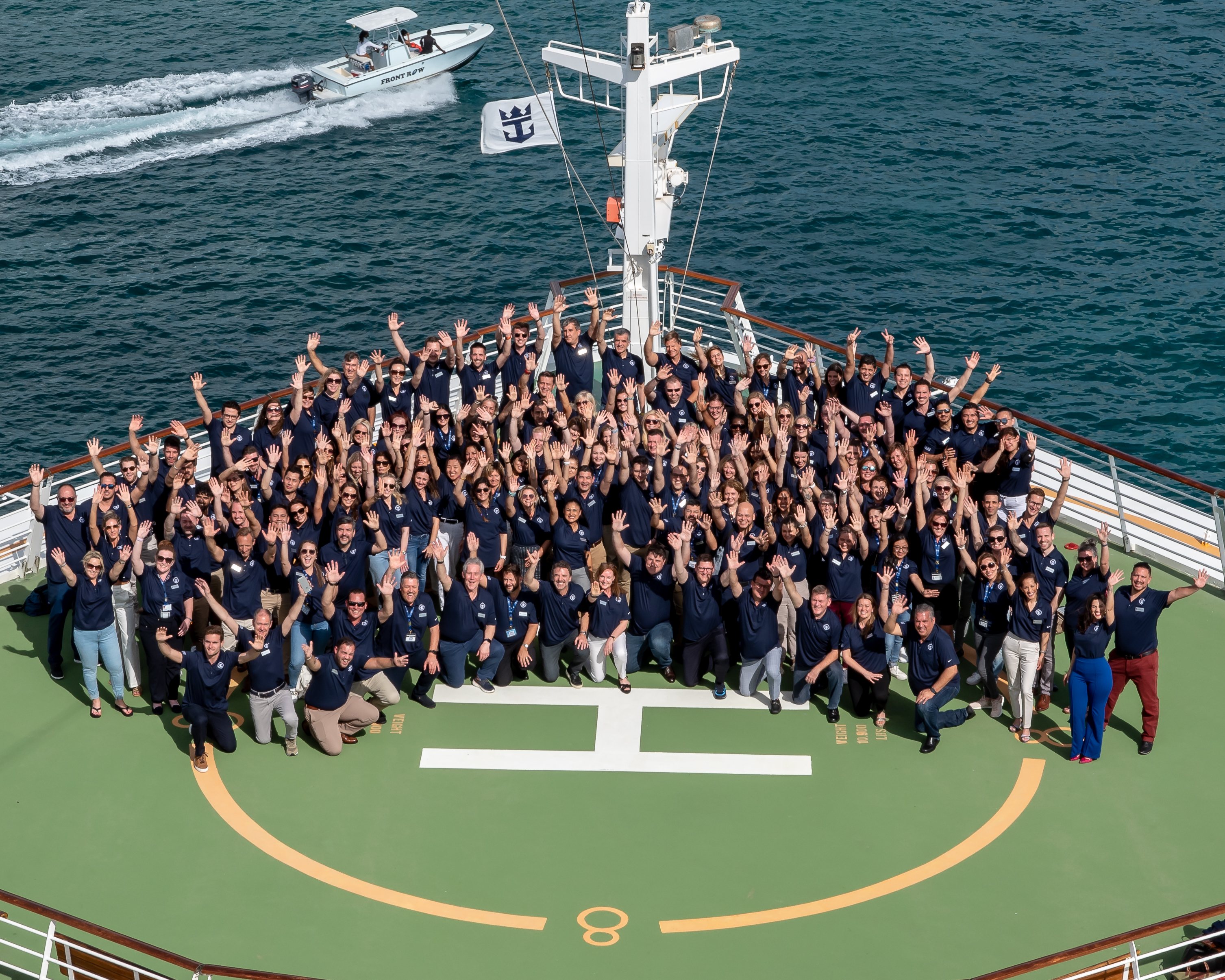 With the buyer journey becoming more and more complex every day, sales leaders need to invest in their teams and help them evolve. In an interview with EBM, Royal Caribbean Group's Global Director of Sales Transformation, Dr. Grant Van Ulbrich discussed this in-depth. Moreover, he revealed how Royal Caribbean Group drives sales transformation and how leaders can support their sales teams.
HI DR. GRANT, PLEASE INTRODUCE YOURSELF AND YOUR ROLE.
Thanks so very much for the honour to be with you and talk about Sales Transformation here within Royal Caribbean Group. I've been working in the cruise industry for just over 20 years now, both working onboard our ships and in various land-based roles mostly focused in sales and revenue generation on a global scale. It wasn't until I transitioned to live in Europe back in 2018 that I took on the responsibility of transforming our international sales divisions. The ask from the business was for me to create a sales manual for all of our international teams to follow. However, I was introduced to the new sales master's program through the London based Consalia Sales Business School together with Middlesex University, and that is where transformation for us truly began.
The master's program is the first master's in sales science and psychology focusing directly on sales that taught us how to foster sales leadership and achieve sales transformation within our teams. Until then, I thought I had a strong foundation in sales, but I quickly learned that the consultative sales tips, tricks, and processes we all had learned about in the 1980s were extremely outdated and no longer viable. Little did I know at the time that not only would I be the first to graduate the sales master's program within the cruise and hospitality industry, but I would also go on to become the first doctor through the Doctor of Professional Studies focusing on sales transformation at Middlesex University as well.
HOW DO YOU DRIVE SALES TRANSFORMATION AT ROYAL CARIBBEAN GROUP?
The master's and doctoral programs supported us in building the latest digital sales academy to support our entire international sales organisation with a foundation in distinguishing the negative and positive sales mindsets that focus on the values and behaviours customers want and expect to be sold to. The entire program is based off switching from the negative, supplier centric, typically manipulative sales approach to focus everything we do on the customer and their wants and needs. This foundation comes from Dr. Philip Squire, the CEO of the Consalia Sales Business School and his global sales research.
We then take it to the next level by having bespoke career development pathways exclusively for each area within sales. Consalia have also developed through their research an array of supporting tools under the Winning Value Proposition™ framework that allows us to focus directly on taking a deep dive into what our major accounts and B2B customers need from us in order to support their success. It is a very unique focus on how to achieve and support our own business goals by focusing on developing our B2B customers in achieving success for themselves first.
From there we have also brought into our sales teams support through both my right-hand manager and I becoming certified sales transformation coaches through Consalia and the Institute of Leadership and Management. By fostering and creating a true coaching atmosphere, our sales teams are continually developed and supported to be the best they can possibly be.
Another aspect that is truly unique is our partnership with the Institute of Sales Professionals (ISP) and their F.A.I.R. Ethics examination and accreditation program coupled with their accredited Continued Professional Development (CPD) program whereby they have vetted and approved our digital sales academy to be worthy of accreditation for our sales team. This adds external verification of our continued development and fostering accreditation for our team members to represent the sales profession in the best possible light.
These are at the heart of the programs and foundation that we have imbedded into our international sales team culture to transform from the ways of yesterday to selling in today's modern sales profession.
THE PAST FEW YEARS HAVE BEEN EXTREMELY CHALLENGING FOR BUSINESSES IN THE TRAVEL AND HOSPITALITY INDUSTRY. HOW DID ROYAL CARIBBEAN GROUP RESPOND TO THE UNCERTAINTY BROUGHT ABOUT BY THE PANDEMIC AND THE COST-OF-LIVING CRISIS?
There are many different things we have done throughout the pandemic to help champion our internal employees and even our B2B travel customers. But there are two scenarios that really stand out to me. One, is that we didn't walk away from our travel agency customers. We stayed there for them. In many instances it was just to be a friendly voice on the other end of the video call or phone call. We stayed very close to our B2B customers personally and financially. It was the right thing to do and I don't think we could have done it any other way.
Another came from my sales master's program whereby I created a new personal change model designed to help individuals learn how to manage personal change for themselves. The model is called SCARED SO WHAT. Scared focuses on a person's feelings and making an informed decision. So What is where you create your own action plan to support a change outcome for yourself. As unfortunate as the pandemic was for us and our customers, it was riddled with bouts of very extreme personal change. The existing organisational change models just were not designed to include what happens when an individual rejects change. What happens then? We have not been taught how to manage personal change for ourselves. Yet our sales team were on the front line expected to manage their own personal change and be there for our B2B customers and help them with their own situations of change. It was a perfect storm to test out the model's effectiveness as part of my academic research.
We gave the model along with its self-reflective quiz and templates to our B2B travel customers in Europe, Middle East and Africa (EMEA) for them to learn how to manage personal change for themselves. In a very short period, over 1,100 travel agents had participated in the learning of this new program and together our sales teams were able to support them through this massive change scenario in a more positive way.
Royal Caribbean Group is incredibly innovative and supports a empathy, care, and development not only for our internal employees, but for our B2B customers as well. I'm very proud to be a part of Royal and our brands.
HAVING WORKED AS A GLOBAL DIRECTOR OF SALES TRANSFORMATION FOR MANY YEARS, WHAT TIPS WOULD YOU GIVE LEADERS WHO WANT TO HELP THEIR SALES TEAMS NAVIGATE CHALLENGING TRANSITIONS?
I would encourage every sales leader to strongly consider adding sales education (not just simple training) into their teams and organization. Consalia Sales Business School offers the most unique and state of the art sales academy backed by the support Middlesex University as the accrediting body. Sales has evolved. Our customers and buying atmosphere have evolved. Therefore, our investments into our sales team's education must also evolve. We are no longer in the 1980s with tips and tricks to manipulate, overcome objections and close a sale. Today's customers are way too savvy.
Invest in your sales team's ability to accept or reject change. Salespeople face constant change in the form of deals, negotiations, changing offers and promotions, changing teams and structures and change from customers forced upon the sales team. We must learn to help guide them and include them in on the journey. Go to scaredsowhat.com and learn how through my journey within the sales masters and doctorate. My new book called Transforming Sales Management together with the SCARED SO WHAT app will guide you on your way. The app is free to download and use for individuals. (Take 20% off the book when using KOGANPAGE20 and ordering through this link.)



Dr. Grant Van Ulbrich, Global Director of Sales Transformation at Royal Caribbean Group